It all started with this inspiration photo below, I love gold and brass type of finishes. I looked and looked everywhere for floor lamps in this particular design with a gold finish. I found plenty of them, but all were out of my budget! Of course, right? So I thought to get crafty, roll up my sleeves and put a bit of time and effort into a DIY project. It was so worth doing! I had fun and the end result is very rewarding. I sit on my sofa sometimes and admire the lamps. Here's the tutorial, enjoy!
I bought 2 of these lamps from
Ikea
with coordinating shades for $24.99 a pop!
Nice, simple, but so unoriginal!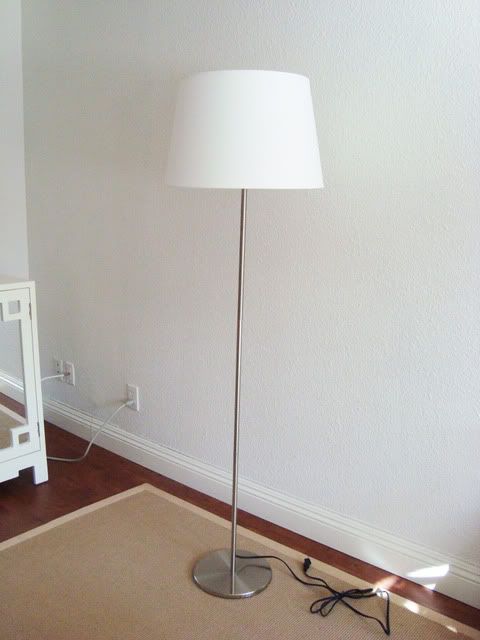 Materials used:
1. Gold Leaf Paper
2. Gold Leaf Adhesive
3. Soft Sponge Brush
4. Scissors
5. Wax Paper
6. Gold Leaf Sealant (not shown in picture)
All Materials were purchased from my local craft store.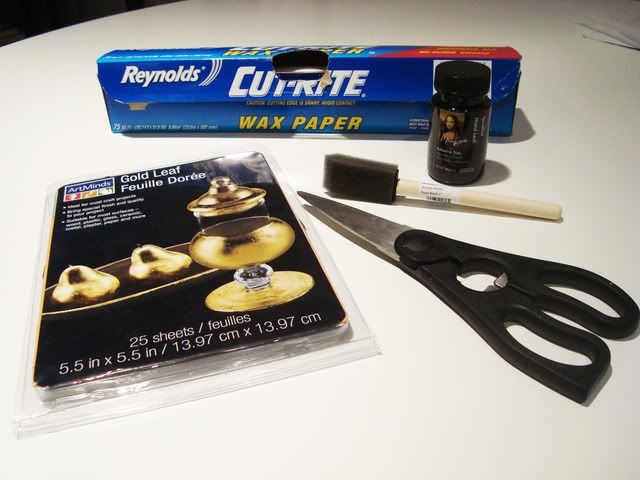 Day 1:
1. Start with a clean palette. I cleaned my floor lamps with a bit of water and vinegar to get any grime off, then dry them.
2. Lay down a surface to work on that you're going to want to toss away after you've finished! I used a shopping bag with a couple of sheets of wax paper above. (I found that wax paper doesn't stick to the adhesive)
3. Once the lamp is clean and dry apply the Gold Leaf Adhesive with the soft sponge brush; the adhesive should look milky white on the surface, and make sure there aren't any bubbles!
4. Let your product air dry for about 15-30 minutes before applying the leaf. The goal is for the surface to feel sticky and tacky to the touch, not wet.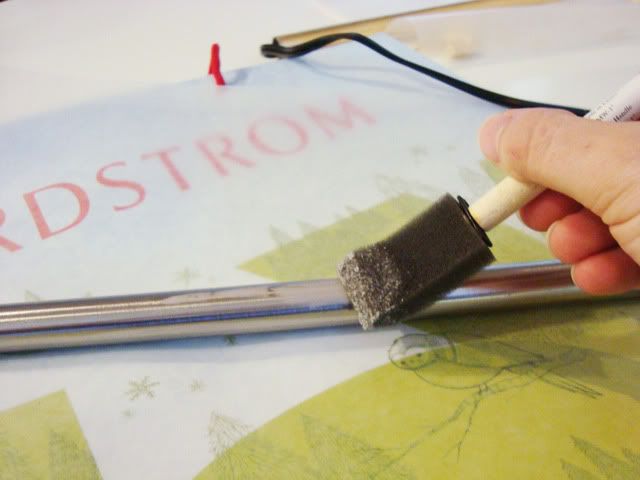 1. Start Applying the Gold Leaf paper.
2. Apply in a clockwise direction
3. Use a small sheet of wax paper to smooth the leaf into the surface
(hint: don't use your hands! gold leaf is really delicate and rips very easy, so for a smoother finish, buff into the gold leaf with the wax as your are applying. I set aside about 10 small sheets of precut wax paper near where I was working so I always had a clean sheet of wax paper to use as I went along.)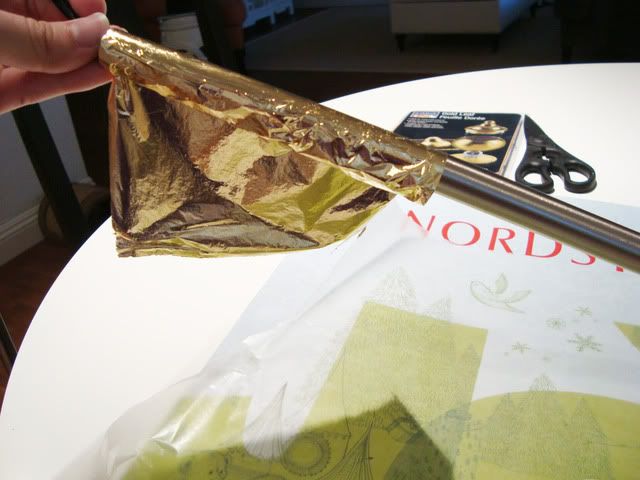 1.Leave a bit of excess gold leaf around the areas you applied the leaf.
2.Set your product aside and let it sit and dry over night.
3. Its going to look messy and quite strange having bits of gold lead dangling off your lamp
but trust me, when you come back to your product the next day you to finish the product, you will have a beautiful result!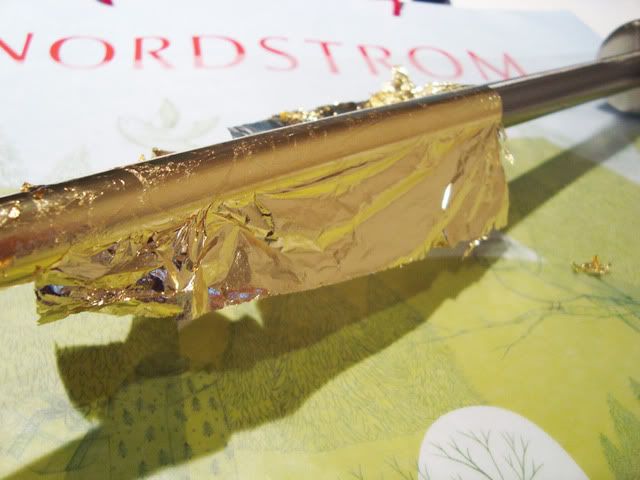 Day 2:
1. Take a clean sheet of wax paper and buff off any remaining pieces of gold leaf
2. Spray or Paint Gold Leaf Sealant
3. Set your product aside and allow the sealant to cure overnight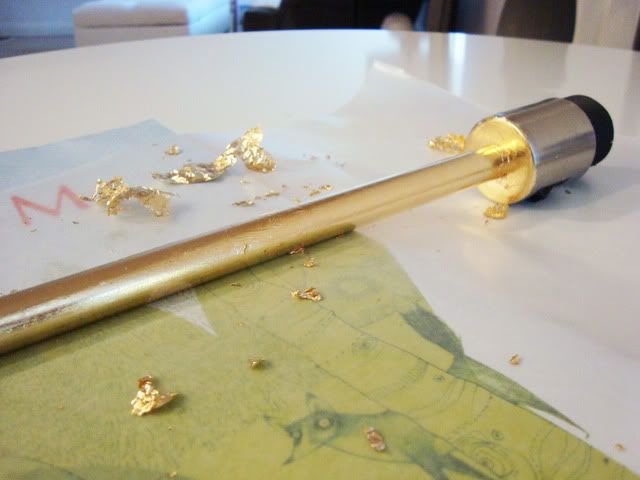 voila!!! the finished product!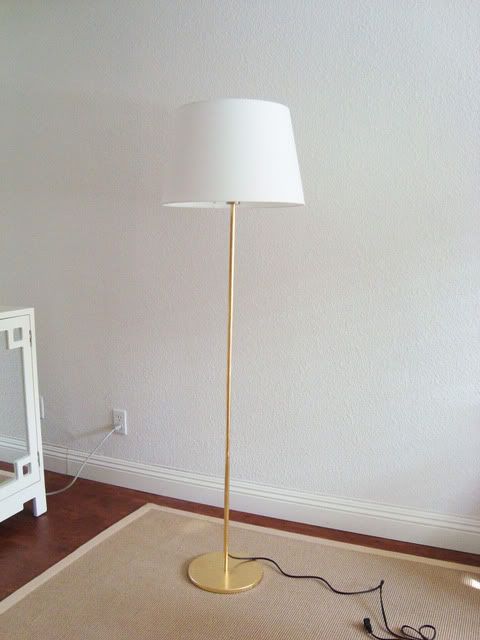 Overall the project was quite easy. All you need is patience and clean surface to work with. I am still undecided about adding black ribbon trim as shown in my inspiration picture above, but for now I am so happy with my custom gold leaf floor lamps!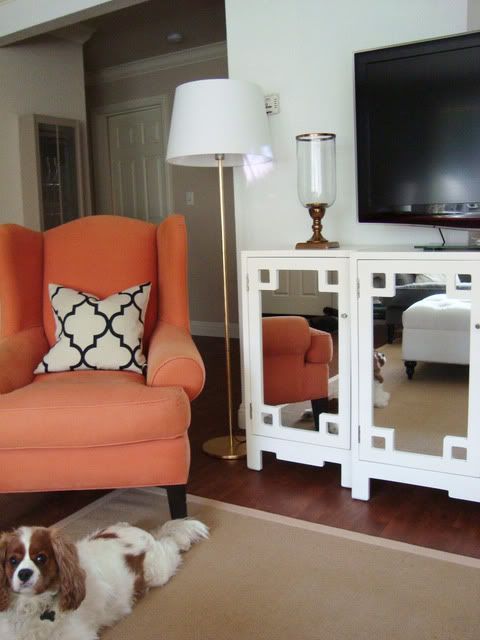 This is how one of my floor lamps looks next to my wing back chair.
I am also loving my new Nate Berkus Hurricane Candle Holders! Look at my little Rigby, isn;t he so photogenic?