I love this time of year, the time Fall starts creeping slowly into our day. a bit colder a bit darker, and time seems to slow down... Today feels a bit like Fall, its chilly, dark-grey clouds, and I am sitting here at my desk with a soy chai latte, and a sweet scented Archipelago candle and I am so inspired to write about fall findings and inspiration: back to school, apple pie, sweaters, and cozy blankets. Enjoy today!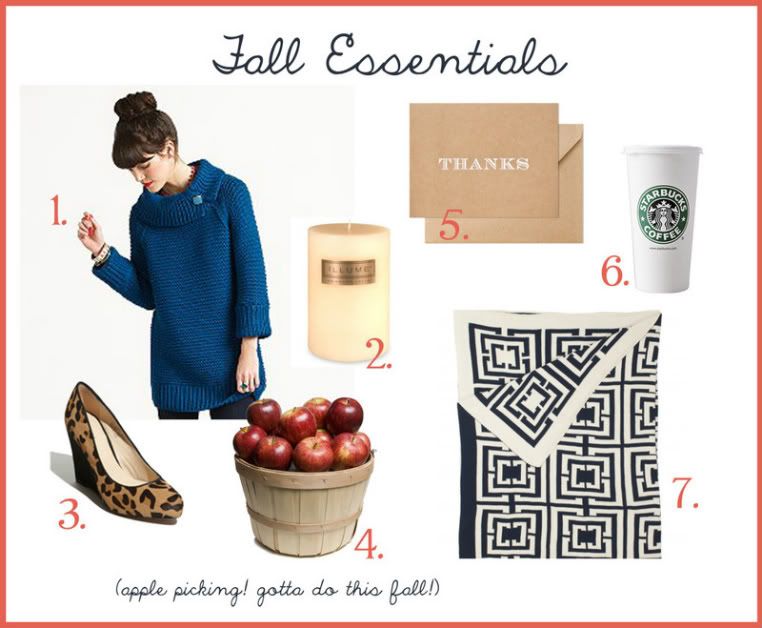 1. A cozy thick sweater is a must have! I adore this
Kate Spade
style.
3. Add a bit of Leopard to your wardrobe! I think these pumps from
Nordstrom
are amazing! Gotta go get em!
4. This fall I am determined to try out apple picking! It looks like such fun, don't you think?!?
5. Give THANKS! A recycled letterpress stationary set from
Sugar Paper
would be a delight!
6. This time of the year I cannot get enough of
Starbucks
Hot Apple Cider or their Pumpkin Latte! Yum!
7. If I could, I would have several different
Cococozy
throws! So luxe! Cuddling up with one of these would be heavenly!